Jasper and Pascack Valley Girls Basketball program begin 50th season
Reflecting on the years: "I'm only halfway through my career," Jeff Jasper said.
 "Pascack Valley has been good to me," Jeff Jasper said while reflecting on his career as a teacher and as the only head coach Pascack Valley Girls Basketball has ever known. 
"My father once told me you need to be around a lot of good people…," Jasper said. "None of this would have ever happened if I didn't have great people with me." 
Leading up to his 50th season as Head Coach, Jasper regarded his time at PV: "I can easily get emotional because my attachment to Pascack Valley has been the biggest part of my life."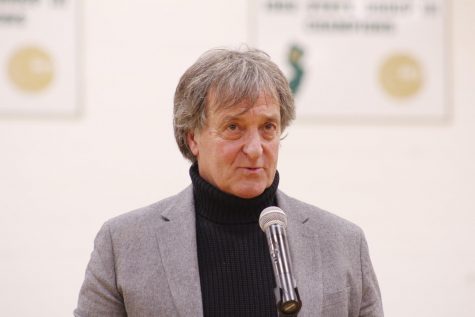 When asked about what this milestone means to him, Jasper characterized the experience as "[living] in paradise" and "living a dream."  
While there's no denying that 50 years with one program is monumental, Jasper commented, "I've always stayed away from numbers, as I don't let numbers define who I am. This number shocks me."
Jasper's Journey to Pascack Valley
In 1970, Jasper received a call from his father about a potential teaching job at Pascack Valley while Jasper was relaxing by the beach in California, where he was living at the time after serving in Vietnam. That call elicited a life-changing chain of events, as his father told him about the opportunity: presented by Jasper's former high school baseball coach, then Vice Principal at Pascack Hills, Jerry Thomas.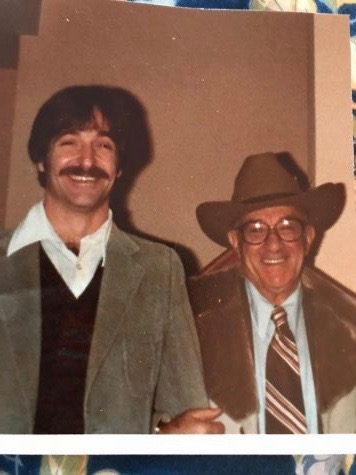 Later that week, Jasper's dad flew him home for an interview with the supervisor: "I come home and get an interview at Pascack Valley by the supervisor, and he takes me to the principal. The principal asks, 'What are you going to do five years from now?' I say, 'I'm going to tell you the truth sir, I don't know what I'm going to do when I walk out the door,'" Jasper said.
When offered the job, Jasper wasn't immediately sure, as he responded with, "'Okay, I'll get back to you.'"
Later that day, he arrived home and told his father what happened; his father's response was to call back right away. "I called the superintendent back, and he said, 'You are going to start Monday.'"
Today, Jasper believes, "Things just naturally happen, as I have never forced anything."
The Formation of PV Girls Basketball 
"When I came to Pascack Valley…I knocked on the [Athletic Director's] door and said I would really like to coach," the Pascack Valley Girls Basketball Head Coach explains.
Following this interaction, Jasper was informed that the school was forming a girl's basketball team the next year, and he was given the opportunity to be the head coach. Joe Talamo, the Athletic Director, offered him a deal: if he coached the girls team for one year, "…the year after I could be the boys' JV coach, and I was like, 'Okay, I'm in,'" Jasper recalls.
The team was created after the passing of Title IX in June of 1972, an amendment that facilitated opportunities for girls' involvement in the competitive world of sports. 
The first practice for Pascack Valley Girls Basketball was held on November 15, 1973. Seventy girls showed up to play; Jasper was the only coach in the former back gym, which today serves as the dance and weight rooms. 
"Three days after the first practice, I walked into [Talamo's] office… and said all bets are off; I'm staying with these girls," Jasper said.
The Pascack Valley community began to see Title IX's effects, specifically through the girls basketball team.
"Girls sports were born with the passing of Title IX. That gave girls an opportunity: Jeff Jasper gave me mine," Alice Scotten, a member of the first girl's team and of the Class of 1975, said.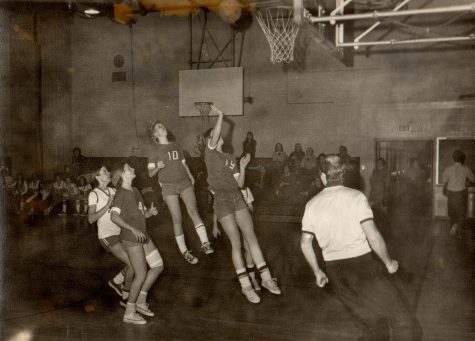 "Title IX opened our eyes to a world of sports and leadership that wasn't previously available to us as girls," said Cathy Stackpole, another member of the first team and a Class of 1975 graduate.
"For frustrated jocks like myself, this was a dream," Kathy Barton, a third member of the first girl's team and Class of 1975 graduate, said. "Growing up competing with brothers and neighborhood boys, I developed a competitive drive. My teammates were the same, inexperienced only playing half court ball in gym class but wanting more."
"I never said that I was coaching girls, I was coaching athletes. And we just happened to be girls playing basketball," Jasper said.
The players agreed, even when others in the community questioned his methods.
"Jeff coached us like basketball players…not girls…and we responded," said Laura (Doherty) Ely, Class of 1981, who went on to play basketball at Notre Dame and has become one of the most accomplished PV basketball players in the school's history.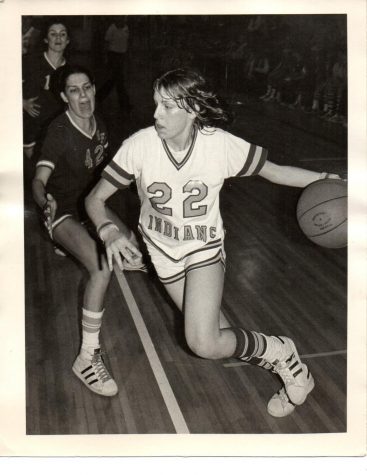 "I remember people saying how can you be that intense with them?," Jasper recalled. "… would [it] be okay to be that intense if they were boys? Then you're missing the beat here."
"We ran, we worked, we sweat and we bonded," Barton said. "We all shared this competitive spirit that was our driving force overpowering talent." 
As with anything, change takes time. 
"If you ever saw the first decade or first two decades here you would say gender equity [has] a long way to go," Jasper said. "And we stood up for ourselves, [and] they gained the respect of being able to say this is who we are, that to me is rewarding and shows great strength."
Pascack Valley Girls Basketball Throughout the Years
"I always treated them as equal human beings; this is how the game is played, this is what athletes do," Jasper explained. "They are going to be strong women someday. Strong women, that's what sports are supposed to teach, and we aren't doing it any other way. I remained true to that from the beginning to the present."
"Our teams were tough, strong and aggressive, every single year," Courtnie (Ciaccio) LaMere, Class of 1996, said. "He always set very high expectations and guided us to meet them." 
"I grew up in the 'old' gym… watching the high school games from the top of the old gym stands, seeing the older girls compete in a way that I hadn't seen females compete before," Maggie Ely, Class of 2008, said.
Jasper's drive for equality mirrors the feministic views of his mother and his wife.
"I am married to a feminist; my mother was a feminist. So I've always seen what you should be," Jasper said. "Stand up for yourself, and don't take any [thing] from anyone. I had a mission in that and couldn't let it be any other way. You are going to gain respect because you are going to earn it."
Over the years, The Pascack Valley Girls Basketball Coach has continued to make a difference for his players, himself, and the community.
"I sued the Board of Education because I was being paid way less than the boys coach," Jasper said. "The boys had a freshman and a JV [coach], and I just had myself. I sued them in civil court and won and hence got equal pay, and every coach of girls sports at Pascack Valley knows that they get paid because I sued [the Board of Education]." 
Along with his belief of standing up for oneself, Jasper has a number of other philosophies that guide his coaching.
"I don't define myself as a coach, and I'm really not that good a coach," the seven-time Bergen County Women's Coach's Association Coach of the Year said. "But I find myself to be a great teacher."
Jasper finds commonality between basketball and education.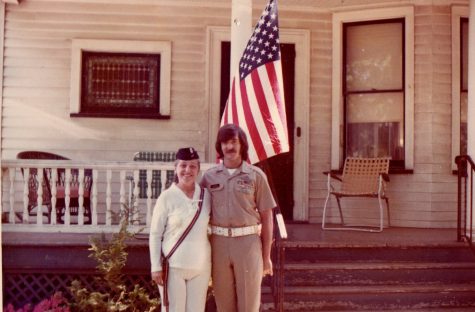 "The court is just an extension of the classroom," Jasper said. "I look at basketball as an avenue to teach."
One of the lessons he teaches includes focusing on basics and fundamentals. 
"I can't see a basketball game without hearing his voice [saying] 'follow your shot' and 'come and meet the ball,'"Stackpole said. "…Mr. Jasper taught us the fundamentals of a game that I still love." 
"When people come into my practice to observe, they think I have a magic formula," Jasper said. "They'll always stay, take some notes, and then say 'So is that all there is?' They think they are gonna see something like Mount Olympus or something. I just like the basics and fundamentals. I don't do anything special. The connections that you make is what makes it special." 
"He instilled a special focus in us… the mentality that we would work every day in practice to become better than we were yesterday, and we never cared about who we were going to play or what their tendencies were," Laura (Doherty) Ely said. "He taught us to trust in ourselves and make other teams worry about us rather than us worrying about them." 
As many who have been to Pascack Valley Girls Basketball games know, Jasper is full of energy, passion, and intensity. 
"Anybody that has ever seen me coach knows that I'm a pretty active and loud person," The Record and The Star-Ledger Girls Basketball Coach of the Century stated. "I don't have any problem pulling someone over and being right up in their face and letting them know what I believe. But that's just the passion that I have." 
Scotten recognized that some may question his intensity, but, if players can embrace it, they will be positively impacted. 
"Some of his in your face coaching has sometimes been criticized; others don't always understand the totality of his style," Scotten said. "I remember being told that if you can take him nose to nose with you without flinching, you can take a player doing the same to you in a game and focus." 
Barton, a player on the same team as Scotten, commented: "Jeff was tough; he yelled and worked us hard, but he had a compassion that understood our frustrations."
Through his intensity, Jasper strives to instill values within his players.
"It's a matter of loyalty, discipline, and commitment; you are loyal to each other, committed to being the best you can be and working hard everyday, and being caring and compassionate to each other," Jasper said.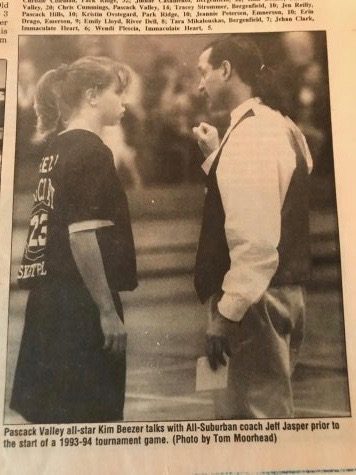 "Even watching professional athletes today, I think about all the qualities Jasper instilled in us, how important they all were, and how some of the pros certainly lack them," Marla Mekjian, Class of 1992, said. "It was the consistent discipline he gave that brought us such success." 
Jasper acknowledges that players now have an idea of what to expect upon joining the program.
"If you're coming to play basketball for me, there are certain things that you know are going to be there," Jasper said. "You know that I'm going to hold you accountable, you are going to come in and work hard, you are going to work at your craft, you are going to care about the people you play with, you are not going to be selfish, you are going to be committed to the team and work at being a good teammate."
Many of his players agree.
"He instilled in us how to be the ultimate teammate, loyalty, fight, attention to detail and pride," Heather (Zurich) Diomede, Class of 2005, said. "It was one of the biggest honors of my life to wear that gold uniform and play for this legend," emphasized (Zurich) Diomede, who went on to play for Rutgers and start in the 2007 NCAA Division I women's basketball tournament championship game.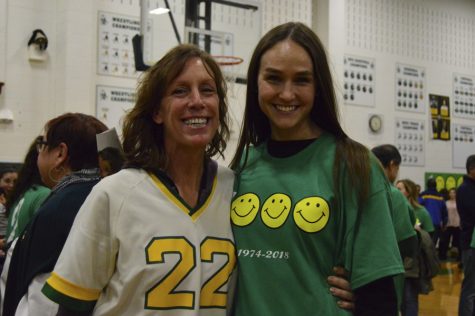 "Jasper taught us to be part of something greater than ourselves—and to do so humbly and honorably—as he created this program, this legacy, that is so much greater than the sum of its individual parts," Tina (Marchiano) Rauscher, Class of 2006, said. 
According to his players, the lessons Jasper teaches extend beyond the court and their years on the team.
"Jasper taught us the game of basketball… but he also taught us life lessons, such as commitment, loyalty, and dedication," Laura (Seiden) Gurth, Class of 1989, said. "Jasper motivated us to reach higher than we ever knew was possible." 
"He knew just how hard to push me and taught me how to push myself well beyond what I ever thought possible," Lauren (Fornazor) McMackin, Class of 2006, said. "The lessons I learned from Jasper are the ones I still benefit from to this day, as a wife, mother, daughter and friend. That is his impact. It continues long after the last game is played."
"… the program [Jasper] runs is… deeper than the sport itself," Kelly Smith, Class of 2018, said. "… He showed us that win or lose, you still come out as a team and with experiences not everyone can say they made during a high school sport."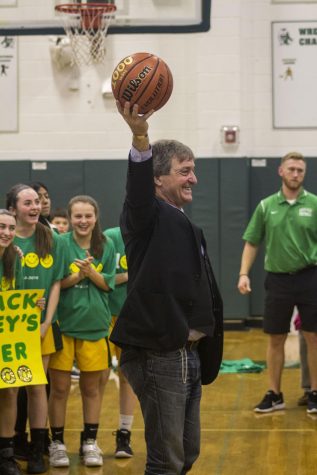 "Jasper was so much more than just my high school basketball coach and he filled much more in my head than just the fundamentals of the game; he taught me the fundamentals of life," said Jules Vassalo, Class of 2021.
"Jasper would always say, 'basketball is just a small part of what we do here,' and as each year passed by, I began to understand what he meant," (Ciaccio) LaMere said. "It was not just about playing basketball and winning. It was about commitment and loyalty. It was about perseverance and mental toughness. It was about selflessness and teamwork. It was about being confident in yourself and being accountable. It was about so much more than the game of basketball. He was right."
"I know that nothing succeeds like working together for something and being held accountable," Jasper said.
Jasper believes that the players are the heart of his program. 
"I've never looked at the game as the game; I've looked at the game as being defined by the players," Jasper said. 
"I'm always looking to improve, [and] some of the best lessons I've ever learned about basketball are from the players that I have," Jasper said.
"He believes in every player and that everyone on the team contributes whether you are a starter or a player on the end of his very long benches," said Kim (Beezer) de Grandpre, Class of 1994.
Jasper explained that when asked "What kind of team do you have this year?," he responds, "Well I got great kids, and, if I don't screw them up, I think they will be pretty good."
"Playing in this program was never just about basketball to him, but an opportunity to mold his players into the best versions of themselves," Chelsea (Lombardi) Morgan, Class of 2011, said.
"They show up everyday. I show up everyday, and I love being there," Jasper enforced. "That's no different today in 2022 than it was in 1973."