Season four of You: 'an interesting season'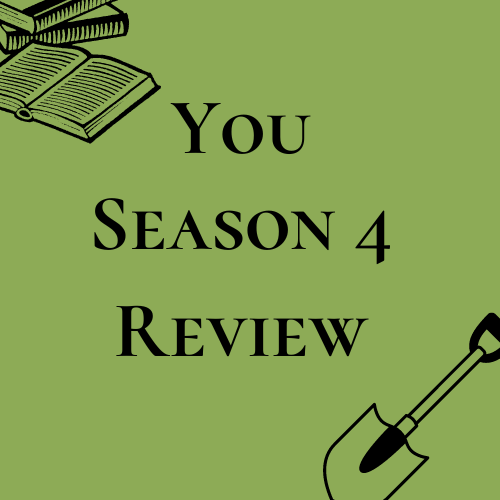 When Season four of You was released, I was excited to see how the new episode matched up with passed seasons. Although, this season didn't meet the expectations of the previous seasons, I still thoroughly enjoyed it. 
Going into this latest addition to the adventures of Joe Goldberg, I was excited and optimistic that I would find this season as spectacular as the other three seasons I had watched and loved. However, as I watched the latest season, it left a sour taste in my mouth.
But I am getting ahead of myself. 
So, on the off chance you haven't browsed through Netflix and watched the first three seasons of You, let me catch you up. 
You follows Joe Goldberg, a seemingly normal man obsessed with books and academics. Oh yes, and the most important thing about Joe Goldberg: he is a serial killer. 
Season four opens in London, as Joe takes on a new identity: operating under the name Jonathan. In the previous season, he killed his wife and faked his own death, and then he traveled to a different country with a different identity to follow a new girl he is obsessed with, Marienne. 
If this all sounds extreme and obsessive to you, then I think you are starting to understand who Joe is. 
In season four, Joe, now referred to as Jonathan, begins working at Darcy College as a literature professor, to stalk Marienne. During his time, he falls in with a group of rich, privileged socialites. Kate, a member of that group, grabs Joe's attention, making him turn his attention away from Marienne.
Joe's words, not mine. 
And, what do you know, as soon as Joe enters the scene, one-by-one these socialites drop like flies. 
I have watched every season of You, and in each one something seems similar to me: there is a lovable sidekick shedding light on Joe's humanity. 
In the first season, it was Paco, Joe's neighbor; in the second it was Ellie, another neighbor of Joe's; in season three, it was Henry, his baby. In this latest season, it is Nadia, his student.
Nadia is one of Joe's students at Darcy College; he was drawn in by her wit and smarts. Throughout the season he tries to help her with her book as well as destroying evidence of an affair she had with a professor. 
All seems good with Joe and Nadia, but Joe's actions at the end of the season are surprisingly different from his actions in other seasons with the supporting characters that show some of his humanity; he kills Nadia's boyfriend and turns her in as the murderer. In the past 
This surprising murder can perhaps speak to some changes in Joe's character. Joe is getting older, and his tendencies are changing. Maybe throughout all of his murders, he has started to transform into someone with less compassion. 
I really appreciate how individualized the seasons are. They have the same central theme of, well, murder, and Joe's personality is at the center; however, each setting and storyline is so individualized that it could very well be a different show each season. 
Another aspect of this season that I applaud is the structure. The release of the show was separated into two parts. This separation was genius because it revealed answers in the show one thing at a time. The slow release of shocking information allowed the viewers to both digest and thoroughly react to the surprising events of the show. The viewer has one idea of the plot at the end of part one, and then the plot slams you with facts that totally contradict what you thought you knew. A good example of this is the reveal of the killer, but I won't get too much into that. 
Overall, this was an interesting season with great character progression and planning. I would give this show a 4/5. As long as you are okay with a little blood and a lot of deception, I would suggest watching the first three seasons. If you fall in love with the plot and character dynamics watch season four!