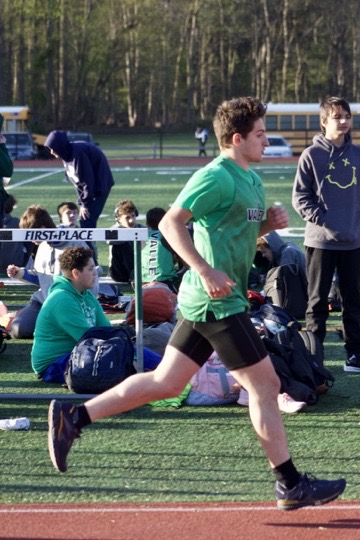 Week in Review 5/1 – 5/7
May 10, 2023
5/1 Monday
Baseball vs NVOT / Loss 7-3
The Pascack Valley Baseball Team took on Northern Valley Old Tappan to start the week and fell by a score of 7-3. Starting on the mound for PV was So. J.T. Deriso; So. Ryan Shea came in to relieve. For NVOT, Vanderbilt-commit Alex Kranzler was on the mound; he threw six scoreless innings, allowing just one hit. PV Sr. Ryan Mancinelli notched two RBIs in the contest.
Softball vs Bergenfield / Loss 7-5 
The Pascack Valley Softball Team fell to Bergenfield, 7-5, on Monday afternoon. Despite Bergenfield's early lead, a four-run fourth inning put Valley within striking distance, but PV was unable to gain the lead. Sr. Alexis Ban led the way for Valley with two singles. 
Golf vs NVOT / Loss 157-189
The Pascack Valley Golf Team fell to NVOT, 157-189, on Monday. Pascack Valley is 2-7 on the year, while Old Tappan is 11-5.
5/2 Tuesday
Golf vs Bergen Catholic / Loss 153-209
The Pascack Valley Golf Team fell to Bergen Catholic, 153-209, on Tuesday. 
Girls Lacrosse vs Northern Highlands / Loss 17-2
The Pascack Valley Girls Lacrosse Team fell to Northern Highlands in the quarterfinal round of the Bergen County Tournament; PV Girls Lacrosse's record is now 8-2.
Boys Lacrosse vs St. Joes (Mont.) / Loss 13-6
On Tuesday, PV Boys Lacrosse lost to St. Joes, ranked No.16 by nj.com for top 20 teams in New Jersey, in the quarterfinal-round of the Bergen County Tournament. So. Donnie Duffus led Pascack Valley with two goals and an assist.
Boys Tennis vs Paramus / Win 5-0
The Pascack Valley Boys Tennis Team defeated Paramus by a score of 5-0 on Tuesday. PV won all single and double matchups, giving Valley the decisive victory.
5/3 Wednesday
Softball vs NVOT / Loss 10-2
PV Softball fell to Northern Valley Old Tappan on Wednesday, 10-2. NVOT, 15-3 on the season, scored a bulk of its runs in the fifth inning, while Pascack Valley gained its runs in the sixth and seventh innings.
Baseball vs NVOT / Loss 6-4
The Pascack Valley Baseball Team played Northern Valley Old Tappan for the second time in three days; PV fell in the closely contested game. On the mound for PV was Jr. Owen Shirey, pitching five solid innings. At the end of the third inning, Valley held onto a 4-0 lead, thanks to an RBI single and a stolen run to home plate by Sr. Jimmy Shea. However, NVOT was able to rally in the fourth and sixth innings, eventually gaining a two-run lead. Valley was unable to come back, and NVOT earned the win.
Boys Tennis vs Indian Hills / Win 5-0
The PV Boys Tennis Team won all five of its matches on Wednesday, going on to defeat Indian Hills. PV advanced its record to 6-6 on the year.
5/4 Thursday
Baseball vs Bergen Catholic / Loss 8-1
The PV Baseball Team took on the No. 3 team in New Jersey, Bergen Catholic. Pascack Valley fell 8-1 on a neutral field in Lyndhurst.
5/5 Friday
Spring Track & Field: Varsity Big North Championship @ Northern Valley High School – Demarest
The Pascack Valley Track & Field Team traveled to Northern Valley Demarest to compete in the Big North Championship. On the boys' side, Sr. Michael Pizzella and Jr. Patrick Kurtz both medaled in the 1600, Jr. Joey Von Tobel medaled in shot put, and So. Colin Krause and So. Kyle Syslo went 2-4 in javelin. For the girls, Fr. Allie Polyniak medaled on the 400IH. So. Alia Moreira medaled in shot put, while also recording a new PR. To round it out, the girls 4×4— consisting of Polyniak, Sr. Jula Graham, Sr. Tori Criscuolo, and Jr. Ella Ackerman—medaled in its event.
Softball vs Dumont / Loss 9-8
The Pascack Valley Softball Team fell to Dumont in a tightly contested match. The girls were down 5-0 in the first inning, but rallied back with a five-run inning in the third. Sr. Kiara Selby was a triple away from the cycle—notching a single, double, and home run in the contest. A walk-off hit in the bottom of the 7th inning earned Dumont the win. PV falls to a 5-11 record on the season.
5/6 Saturday
Baseball vs Indian Hills / WIN 11-4
On Saturday, games across the county were played in honor of former Northern Valley Old Tappan Athletic Director, and member of the Pascack Valley Class of '76, Tom Kaechele. Six high schools across the country hosted games: Pascack Valley hosted Indian Hills, and then Westwood took on Waldwick in the following game. Seniors Brandon Flanagan and Danny Schwartz, along with So. Luke Good, were able to hold Indian Hills to four runs. Charlie Saul continued his strong play this season with a double and a solo shot. Sr. Zach Novakowski made plays from behind the plate, while also smashing a homerun to right field. Seniors Ryan Mancinelli and Jimmy Shea had contributing hits throughout the game as well.
5/7 Sunday
Baseball vs Columbia / WIN 5-1
The Pascack Valley Baseball Team participated in the "Charlie Landers Own the Mound" Games on Sunday, where the team took on Columbia at Ramapo high school. So. JT Deriso pitched a complete game, allowing one earned run. Strong plays in the field from Sr. Brayden Grier, Sr. Zach Novakowski, and So. James Narlinger kept Columbia from earning runs as well. Novakowski and Charlie Saul each had a two run homerun, and Jr. Evan Biener had an RBI double. The team earned the No. 10 seed in the Bergen County Tournament and will play No. 23 Midland Park in the first round.